Top 10 wireless smart switches
Smart Switches – With smart lighting control equipment, it is important to emphasize that such equipment is divided into two segments: the first, the equipment requiring solution design and the second, plug and play equipment. This is text about Plug and Play smart home / home light control products.
Lutron Caseta Dimmer Switch
Lutron's dimmer collaborates with all major smart home platforms, such as Siri, Alexa and Google Assistant, that use their voice to command. Of course, you can also use the Caseta wireless app or the Apple Home app for those who use HomeKit to turn the lights on or off when you are unable. The keys for dimming are located on the mechanism itself, providing a quick and easy way to adjust the level of lighting in your home.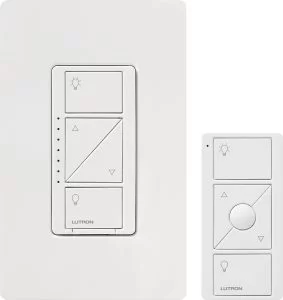 Good
Fast and responsive
Zero conductor is not required
Supports HomeKit, Alexa, Google
Not good
Design
Requires HUB Casetta
High price
Belkin Wemo Wi-Fi dimmer
The Belkin Wemo Wi-Fi light dimmer is sympathetically designed full of tiny dots, making it a solid choice. It has features like defining a darkened surface, where you act with your finger as a sliding mechanism to dim the light. Then, tap and play additional actions such as the action to control the other groups of switches in your home. They are the perfect example of the power that a light switch brings along with a dimmer.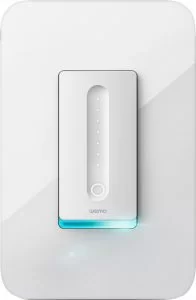 Belkin dimmer switch works with all smart assistants of the smart home (voice control) through a Wi-Fi connection that does not require additional purchases of devices, HUBs and the like. Dimer Wemo also has a three-year manufacturer's warranty, which in fact provides a guarantee that your investment will be protected for years to come.
The extremely versatile Wemo Dimer offers a wide range of control options, enabling layout, synchronization with the sun and programming with the IFTTT application. It also combines well with the popular smart HUBs Nest and Apple HomeKit.
Good
No HUB is required to function
Supports HomeKit, Alexa, Google
Three-year manufacturer warranty
Not good
Zero conductor required
It does not support three-way installation
Create your Aling Experience kit through the Web configurator on the page – Experience Web Configurator.
Kasa smart switches – TP Link
The Kasa Smart switch from TP-Link is a cost-effective solution for those who just want the basics of smart lighting. With its simple design and on and off controls, the Kasa smart switch is easy to install and the accompanying application provides detailed instructions on how to get the job done in minutes.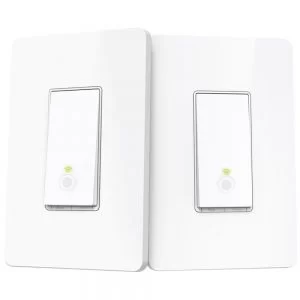 The TP-Link smart switch uses Wi-Fi to connect directly to your Wi-Fi home network, allowing this device to operate inside and outside the home without the need for a separate device or HUB.
Good
No HUB required
Compact design
Not good
Zero conductor required
Does not support three-way installation
Does not support HomeKit
Sonoff TH16
If you intend to control the lighting completely wirelessly, consider the Sonoff TH16, which does not have a button pad and is intended for installation in a recessed box (wall). Apart from lighting, it works with a wide range of other devices.
Good
Easy to synchronize and install
Works out of the box after connecting electrical wires and sensors
Works with Amazon Echo, Echo Dot, Amazon Tap and Google Home, Google Nest
Available in the market
Not good
There is often an error in connecting the sensors
Quality is average
Ecobee smart Switch+
Ecobee, the manufacturer behind the well-known smart thermostats, has used its smart technology to bring to market a light switch that has brought "smart" into smart light switches. Switch + includes a temperature sensor, motion sensor, night light, microphones and speaker in one compact switch housing.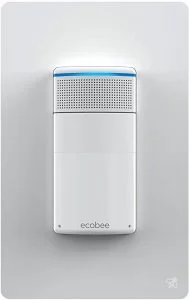 Essentially, this is the technology that has allowed Switch + to house the full version of Amazon's Alexa. This means you can simply ask Alexa to turn the light on and off without the need for an additional device that can control all of it. Once Alexa is installed, doors are opened for other possibilities that could never have been thought possible through a simple light switch.
Good
Built-in Alexa
Motion detector
Temperature sensor
Not good
High price
Design average
Zero conductor required
Click and – Create your LivingLight kit in our configurator and compare prices.
Ankuoo NEO
This device is a good option if you do not want to connect the switch to Amazon Alexa voice control, though Ankuoo sells an Alexa-compatible model, REC, for an additional $ 5. This device does not require a smart HUB, which essentially means that this device does not work with any smart home system but has its own mobile app.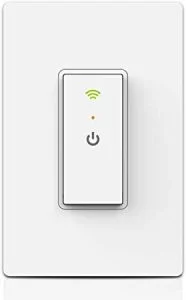 The NEO smart switch is as easy to install as the others we have listed here. It comes with a plastic face mask that fits in and LEDs that have an indication function when connected to Wi-Fi in your home.
Good
Easy to install
An application that supports Android / iOS
powerful wireless lighting control
Not good
Not compatible with AC switches
Does not support three-way installation
Leviton Decora
A brand new Wi-Fi control for lighting control that can combine full-range dimming and connectivity with the built-in Alexa voice control. Alexa works with the My Leviton app and Decora Smart Wi-Fi devices to create a lighting control system for your entire smart home.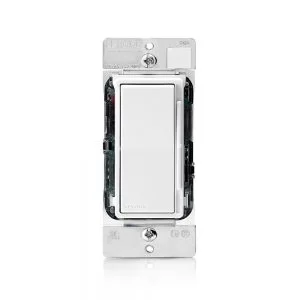 An adjustable and controllable Decora voice dimmer with My Leviton is the ideal smart light switch for front doors, in the living room, children's playroom, bedroom, bathroom, kitchen – anywhere you want to use your voice to control the light, without additional hardware.
Integrated Alexa is the most exciting feature of the new Leviton Decora voice dimmer, which integrates voice control capability in any space via a wall dimmer. It's now possible to use your voice to dim the lights, listen to news, get weather information, control smart devices and more, all through the Voice Dimmer of Decora. This device can replace any standard zero-conductor lighting switch.
Good
Compatible with Echo and Google Home
Supports three-way installation
Moderate price
No additional HUB required
Not good
Integration with other smart home systems other than the aforementioned platforms is not possible
It doesn't always work so perfectly
Philips Hue smart switches
The Philips Hue dimmer switch replaces the normal dimmer switch and has an additional dimming capability. It is easy to replace the extra switches and then control all the lights with a remote control.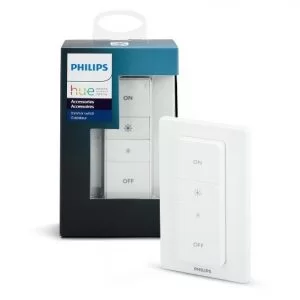 If you have a Philips Hue Bridge, you can connect your switch via Wi-Fi and control the light through an application – the Internet.
Good
Alexa control enabled
Not good
Hub required
Customer feedback is that sometimes a connection is lost
Elgato Eve HomeKit smart switches
The SAINKO Smart Switch can be operated with a simple voice command as it is compatible with the following devices: Amazon Echo, Dot, Tap and Google Assistant. You can also control your lights and other devices connected to the smart switch from anywhere using the smartphone app. It also lets you adjust the time when you want the lights to go on and off. You can set your lights to turn on as soon as dusk appears and program them to switch off just before the sunrise.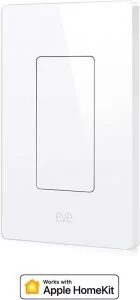 This WiFi smart light switch helps you create efficient power consumption.
Good
It is compatible with numerous lighting options
Easy to install
Works with HomeKit
C by GE – Bluetooth smart switches
Turn standard bulbs into smart ones with the on / off switch – C by GE. This smart switch controls applications that respond to voice commands and out-of-home controls. This C by GE switch allows you to create a schedule for turning the lights on and off automatically.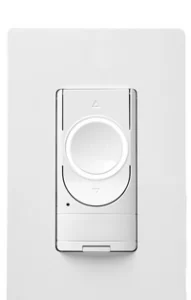 Good
Works without HUB
Ability to connect multiple bulbs thus increasing control range
Not good
Requires HUB for remote and voice control
Follow us on social networks:
Facebook
Instagram
Twitter
YouTube
Or subscribe to our Newsletter.